updated 03/12/2018 10:53am
Tavern on the Moor – Upcoming Events
***Food specials will be available all day***
Creekmoor Wine Tasting Event
Friday, March 23rd at 7:00 p.m.
Join us on Friday, March 23rd at The Tavern on the Moor for a wine tasting event. The Tavern will be rolling out our new wine menu soon and this will be a great opportunity to get a sneak peak!
The event will be hosted by Brian Prawl, who will describe each selection and Chef Karen will pair each wine with an appetizer for you to enjoy. The cost for the event will be $25 per person.
Open to the first 48 residents and their guests – this event will sell out quickly!!
Please reply to this email, or contact Sheila VanMeeteren by calling the POA office or by email at s.vanmeeteren@creekmoorpoa.com to get signed up.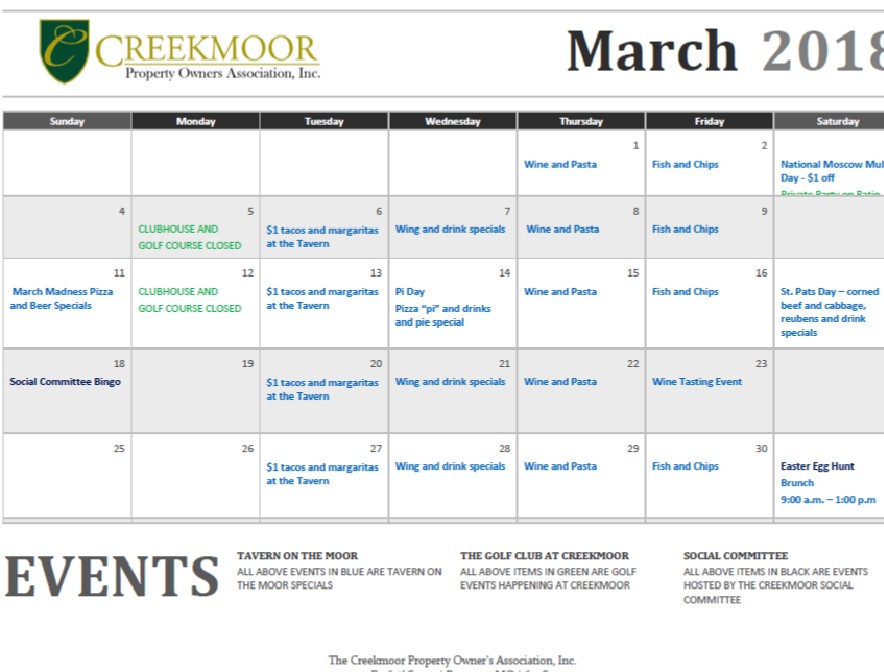 Creekmoor Spring Garage Sale dates have been set!
The dates have been finalized for the spring garage sale for Creekmoor – the dates are
May 17, 18, 19 – Thursday, Friday and Saturday
Additional information on the community garage sale will follow.