updated 05/15/2019 2:26pm
Tavern on the Moor – Upcoming Events
***Food specials will be available all day***
***Food Specials ARE NOW AVAILABLE for carryout***
CLICK HERE FOR THE MARCH SPECIALS AT THE TAVERN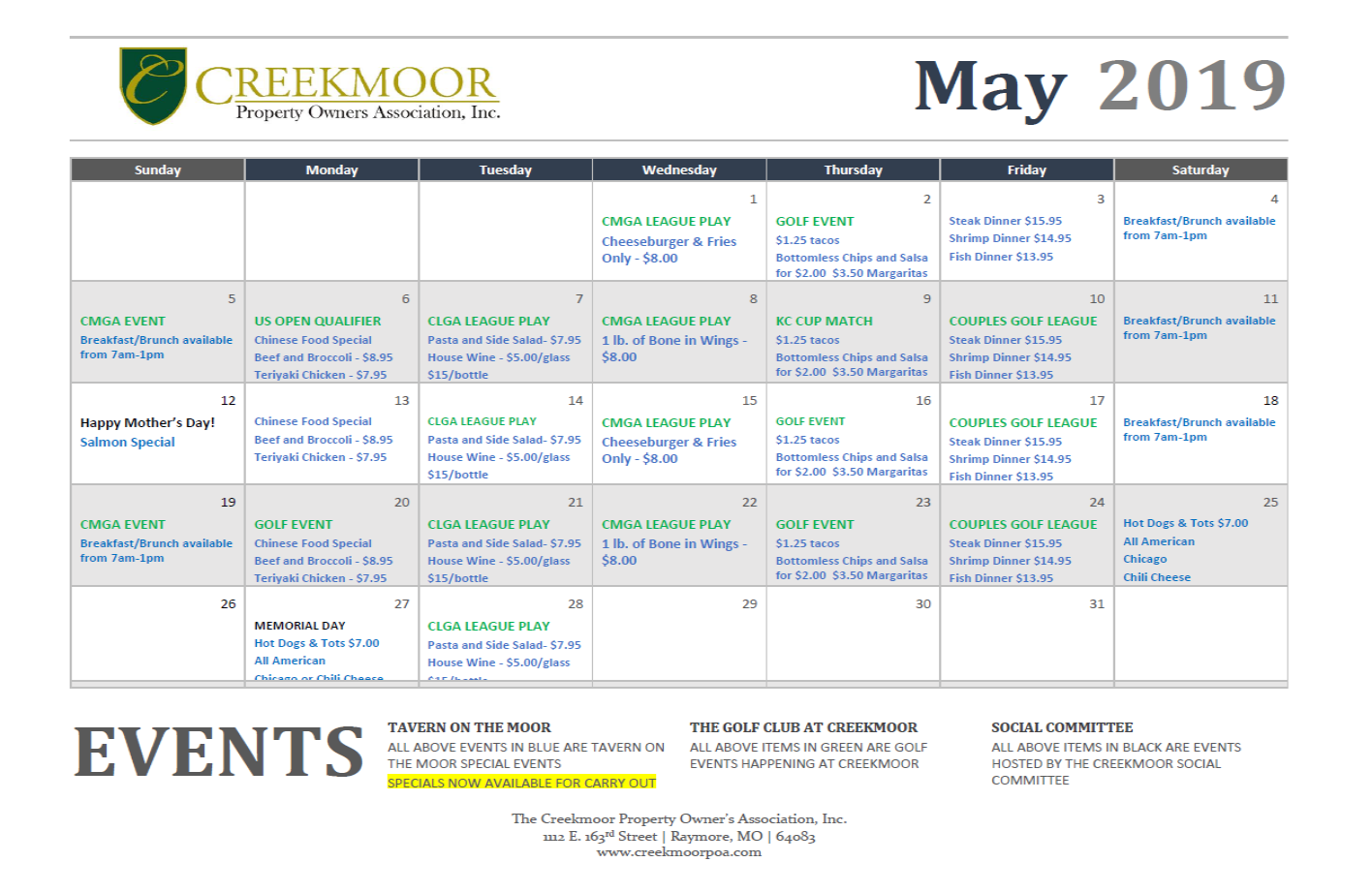 Community Garage Sale Listing - Updated 5/15/19
CLICK ON LINK ABOVE FOR A LISTING OF SALES AND ITEMS INCLUDED IN THE SALES
2019 COMMUNITY GARAGE SALES
GARAGE SALES/MOVING SALES ARE ONLY PERMITTED IN CREEKMOOR
DURING THE DESIGNATED SPRING & FALL COMMUNITY
GARAGE SALE DATES – Thanks for your cooperation!
SPRING GARAGE SALE – MAY 16th, 17th, 18th – Thurs, Fri & Sat until NOON
FALL GARAGE SALE – TO BE DETERMINED
You are welcome to participate in as many days as you would like. The POA will advertise in local newspaper publications, Raymore Chamber news and place signs on Foxridge Drive within the community. DON'T FORGET to place Garage Sale signs starting on Foxridge Drive to your home so shoppers can find your sale! Signs will be allowed in the community during garage sale dates only.
GARAGE SALE LISTING: If you would like to be added to the "Creekmoor Garage Sale Listing," which will be emailed to the community prior to the garage sale, contact the POA office at creekmoor@creekmoorpoa.com or simply respond to this email no later than noon on the Tuesday prior to garage sale start date and provide the following information:
Street Address of sale (only Creekmoor addresses will be accepted)
Date(s) Participating
4-5 items of interest – for example baby crib, Christmas tree, children's clothing, etc.
KC DONATIONS TRUCK will go through the community on Saturday, starting at 1 pm to pick up left over garage sale items! KC Donations urges anyone that wants to ensure a pick up to call Shelly at 816-285-4955 with their address PRIOR TO THURSDAY NOON, MAY 16TH.
Please mark your items with signs – FOR KC DONATIONS ONLY – hopefully to stop others from picking through your items meant for donation. Please place your items at the curb. They will stop rain or shine – if raining, cover your items with plastic or tarp. Even if you do not participate in the garage sale, you are welcome to leave items at the curb. Please pack boxes so one person is able to lift it into a truck. Thank you!
KC Donations pick up service, provides service for Catholic Charities, Ozanam Home benefitting troubled children & their families and Sherwood Center, benefitting the exceptional child with autism locally. They are especially in need of good used clothing for women, men & children and will accept small appliances, knick knacks, house wares, bath & bedding, furniture, lamps, shoes, jewelry, electronics, toys. However, they are restricted from accepting the following items, box or tube TV's, sofa sleepers, mattresses/box springs, large appliances, tires, large exercise equipment, water beds, and furniture in need of repair or made of particle board/pressed wood. No gas or propane powered equipment.
Donations are tax deductible – the driver will leave a tax receipt at your door. Thank you in advance for your contributions!