Home


CLICK HERE FOR THE CLUB CALENDAR

2021 Rate Sheet - Effective 4/1/2021
2021 Preview Membership Application
2021 CMGA Welcome Letter 2021 CMGA Sign Up Form
2021 CLGA Welcome Letter 2021 CLGA Sign Up Form
2021 President's Cup Information
2021 Ladies Year Long Four Ball
2021 Couples Club Championship
updated 06/02/2021 11:28am
Tavern on the Moor Update
To place a to go order please call 816-331-2621 ext 6
CLICK HERE FOR PRINTABLE JUNE CALENDAR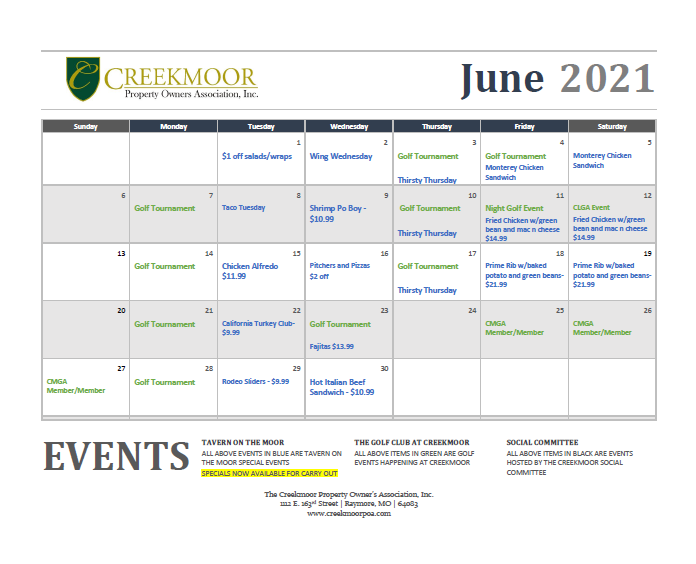 Do you have a question for one of the POA committees? If so, you can reach members of the Lake Committee, ARC committee or Beautification Committee by email at committees@creekmoorpoa.com.
updated 07/23/2020 11:29am
Parkside Development Plan - Concept Plan for development south of the Creekmoor Clubhouse
(NOT PART OF THE CREEKMOOR POA - FOR YOUR INFORMATION ONLY)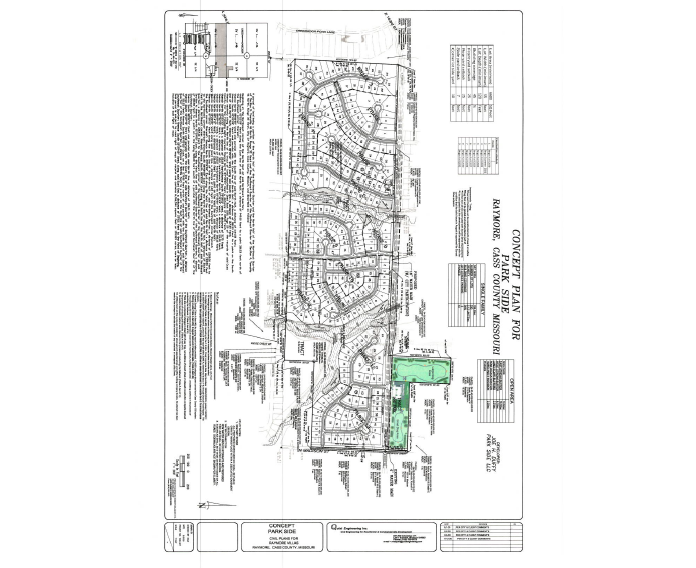 Administrative Office:
8:00 a.m. - 5:00 p.m. (Monday - Friday)
6:30 a.m. - 7:00 p.m., Daily

Tavern on the Moor Restaurant - DINE IN SERVICES NOW AVAILABLE
CURBSIDE SERVICE AVAILABLE
MONDAY - 10:00 a.m. to 5:00 p.m.
TUESDAY - THURSDAY 10:00 a.m. to 9:00 p.m.
FRIDAY - 10:00am to 9:00 p.m. (Bar open until 10 p.m.)
SATURDAY - 7:00 a.m. to 9:00 p.m. (Bar open until 10 p.m.)
SUNDAY - 7:00 a.m. to 8:00 p.m.
Clubhouse/Golf Course:
Closed all day on New Year's Day, Thanksgiving, and Christmas.
Creekmoor POA
1112 E 163rd Street
Raymore, MO 64083
Creekmoor Fitness Center
24-Hour Access
Welcome to the Creekmoor Community POA website! Everything you need to know is right here at your fingertips.